Navigating the Site
The MEDIAL home page displays the coverflow of the latest media and the most frequently played clips.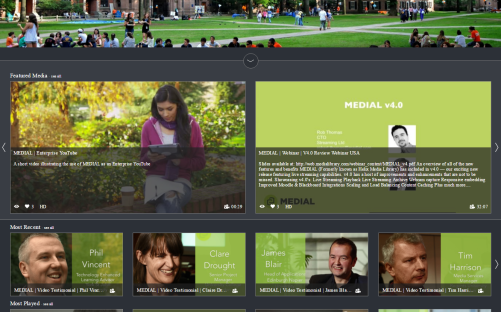 Media Categories are not displayed on the homepage initially. Click the arrow button will expose them, and if the category list remains expanded, this choice is remembered for next time.

Below that you may see links to external sites that have been selected by the MEDIAL administrator.
If the coverflow is not enabled, thumbnails of featured media display instead.
To see how MEDIAL looks on smart phones and tablets, see the topic Using Mobile Devices.
Menu Bar
The main menu bar offers a number of options when logged in as an administrator.

The

Home

button returns you to the main page from any point.
The

Sliders

button appears for administrators and provides access to the administration site.
The

Upload

button is present if you can upload media. Clicking it takes you to the upload wizard where you can upload a file or record a clip using a webcam.

The Broadcasting button takes you to any live channels that are available.
Secondary Menu Bar
In the top right corner there is a smaller menu:

The

Magnifying Glass

allows users to search for content on the system based on media title, description, tags, contributor, chapter, playlist, or keyword.
The

Life Preserver

button offers guidelines for using the system along with any specifics added by your administration team.
The

My Account

silhouette is a drop-down list containing several options for managing your media, updating your account, and managing playlists.
Languages
You can change the language MEDIAL uses by clicking on the flag in the bottom left corner in the home page of the portal.

On the admininistration/upload site, the language flag appears in the top right of the menu bar.
Clicking the languages flag opens up a lightbox containing flags for all available languages. Click a flag to change MEDIAL to the language of that country: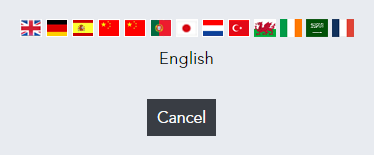 The language will be remembered the next time you log into your account.
Breadcrumbs
When navigating the MEDIAL portal, the breadcrumbs at the top of the page show your location. Click the category hyperlinks to navigate quickly to a higher level in the library.

Library Navigation
When you navigate the media library using the Categories, SubCategories, Contributors, and Tags links, the options are narrowed down as you select them. In the example shown below, the results are shown for media in the French category that has been uploaded by the user Jamie Thornton. Open a clip for viewing either by clicking on the thumbnail or the title.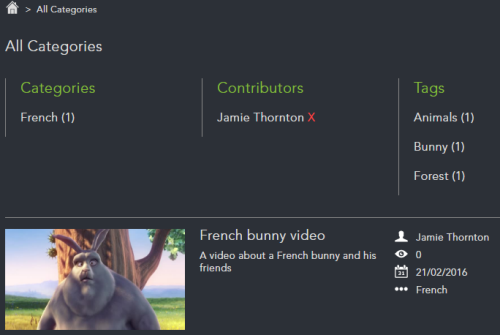 When you select a link, a red X appears next to it. To take this filter off, click the red X. This increases the number of results.